Finding great restaurants in a new place can be a challenge but can make a good holiday great.  Here are some of our favourite places to eat in La Baie du Mont St Michel.  To be fair, a favourite restaurant is not always just about the food.
It's worth noting that in the countryside restaurants tend to open at 7pm and if you want to eat later you need to be sitting down to eat before 9pm.  Many restaurants are closed on Sunday night and on Monday and others choose other days.  And some restaurants are closed altogether in the low season.  We are happy to ring a restaurant for you to check if it's open and if it has room for you.
Convenient and Cheap
Camping les Couesnon is a campsite with a restaurant attached.  When mussels are in season, usually from about mid-July, this is a great destination for moules frites.  The restaurant also serves galettes and crepes, salads and other hot dishes.  We like it because it is only 2km away, it's easy to go at the end of a busy day and we can take Frodo and eat outside.
Website: http://www.lescouesnons.com/en/the-restaurant/
If you like Steak
When we fancy a steak, we tend to go to Restaurant XIV, in Pontorson.  The restaurant is quite small, which we like, and it serves a good 3 course meal for about 19€.  The opening hours can be a bit unpredictable, so it's always worth ringing in advance but we have always enjoyed our meal.
Website: http://www.le-14.com/restaurant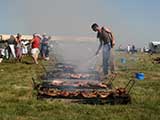 If you want to try Agneau pre sale
Agneau pre sale is a speciality of the area, with the lambs being raised on the salt marshes in the bay.
The restaurant La Ferme Saint Michel does serve various cuts of pre sale lamb.  Note that it is a huge restaurant, so service can be a bit slow at times, particularly in the summer.
Website: http://www.restaurantfermesaintmichel.com/
Where we go for birthdays and Christmas
When we want a treat, we go to Le Point G at St Broladre.  We h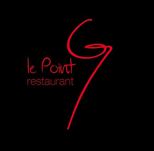 ave been here for Christmas lunch for the last 3 years, and it's quite a feast, leaving us pleasantly stuffed and with no washing up to do!
Even though it is quite a big restaurant, it is arranged so that even if you are the only customers you don't feel too exposed.
Website: http://restaurant-lepointg.fr/
In a beautiful town

15 minutes drive from here is the historic town of Dol De Bretagne, which is the birthplace of the Royal House of Stuart.  The high street and the area around the cathedral are beautiful, so it's a lovely place to go for a wander and a meal.  Our favourite restaurant is Le Grabotais, where the chef cooks the meat and fish on the open fire in the restaurant.  We find the food is better when the restaurant is not too busy.
Website: http://restaurant-dol-de-bretagne.com/
In another beautiful town a bit further away
Dinan is Henry's favourite town in the area and L'Atelier Gourmand is where we eat when we go, which isn't very often.  It's at the bottom of the very steep hill of ancient houses that you descend to get to the river and the restaurant is right next to a bridge.  This is where the old port was, as this was the furthest traders could get along the river in their boats.  If you parked at the top, just allow yourself a little extra time to get back to your car.
Website: http://www.restaurant-lateliergourmand.fr/savoir-faire/
On the beach
Well almost.  L'Abri des Grèves is a creperie and snack bar next to the beach at Cherrueix, which is one of those names I don't know how to say!  On a free evening in the summer we drive up here, take the dog for a walk along the beach and then end up at the restaurant.  The restaurant is right next to a children's play area, so if you don't fancy a walk, you can exhaust the children in the play area before you eat.  This is also the place to head for sand-yachting, though best not to do that on a full stomach.
Our favourite is burger and chips, though that option doesn't appear on the website menu.  We like being asked how we would like our burger cooked.  I hope they still serve it.
Website: http://www.labridesgreves.fr/
If you like oysters
Actually I don't, so this one is not based on experience.  There is an open market in the port area of Cancale, where you can buy a plate of oysters served with a slice of lemon to eat in the open air.  It's super cheap and you could bring the shells back for our chickens.
If you like mussels
The mussels (moules) in the area have a fine reputation in France, and there are many producers in the Bay of Mont St Michel, some of whom serve them to eat too.
We already mentioned Camping les Couesnon but there is what we call the 'Moule Shack' at Vivier-sur-Mer, where the producer serves oysters all year round and mussels in season.  The outdoor restaurant sits at the edge of the bay, and you can have a stroll around some of the mussel nurseries and along the beach.  Served with bread and butter and a packet of crisps, and a bottle of local cider.  In the summer there is sometimes a chip van parked alongside where you can get soft drinks and crepes as well, though the hours are variable.
If you like fruits de mer
There are lots of restaurants in Cancale serving fruits de mers.  We tried the fruits de mer at Le Querrien with some friends.  It's more of a piece of theatre than going out for dinner but great fun and the Sancerre was gorgeous.
Website: http://le-querrien.com/
Other Cancale Restaurants
If you want a table with a view try La Mere Champlain.  It's right next to the bay, and if you book you might get a table with a view.
Website: http://www.lamerechamplain.com/
If you like home cooked food go for A Contre Courant, which has a superb view of the car park, but most of the dishes have a saucepan symbol, denoting home-cooked and it's just good wholesome food.  One time the special was 'margatte', which we found out was baby squid harvested from the Bay of Mont St Michel.
Website: http://acontrecourant.net/
So these are the restaurants that we visit.  There are lots of other restaurants in the area and I have a shortlist of new ones to try.  We just need a quiet evening to be able to go.
I nearly forgot… If you'd like a Michelin Star
Go to Tirel Guerin.  We have been once and it was quite an experience.  It was a wedding present from some regular guests, so we were truly spoilt!  Save up and book early if you want to eat there in the summer.
Website: http://www.tirel-guerin.com/anglais/the-tirel-guerin-restaurant/menus/
More from Mont Saint Michel Gites