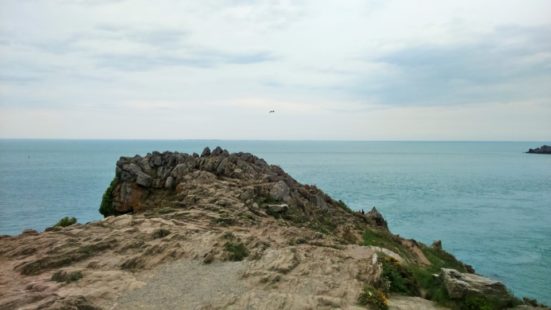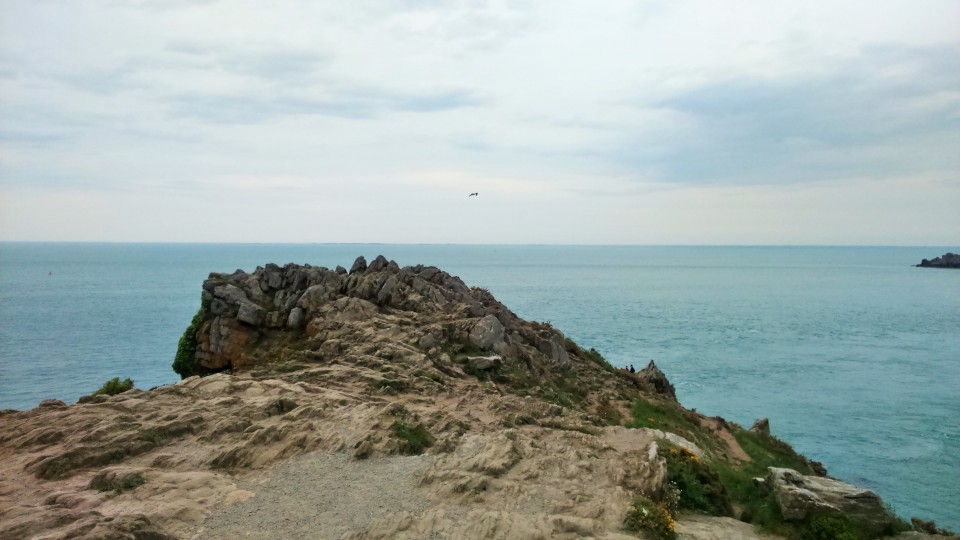 Drive past Cancale along the coast road and you will find La Pointe du Grouin, the most northerly tip of the St Malo peninsular.  On a sunny day, the views from here are spectacular.  I am always inspired looking at the vastness of the sea.  You can often see the Îles Chausey, though the best way to get to them is from Granville, the other side of the bay.  The point is on the GR34, the walking route around the coast of Brittany.
Even on a not so sunny evening, when you look at the water you can see why this part of the Brittany coastline is called the Emerald Coast.
We popped over to this viewing spot last week, and after taking the very blustery air, headed to Cancale for a lovely dinner with friends.  It's always tempting to keep going to the same restaurant, and in the past we have been to La Mere Champlain, which is easy to find and looks out over the harbour.
This time we headed for A contre courant, which translates as 'against the tide'.  It doesn't have the view, but the atmosphere is very homely and the food was delicious. There seems to be a menu for every pocket and the refreshing honesty that local moules are not in season until July.  We were sitting outside, but blankets were available for when it got cold.  The surprise dish was Margatte, fished out of the bay of Mont St Michel.  Google translate didn't know what it was, but Henry ordered it anyway.  It was squid!  I didn't know there was squid in the bay.  I'd definitely eat here again.
Another restaurant I would like to try is Cote Mer, which looks like it does have a view, and some good TripAdvisor recommendations too.  The website is http://www.restaurant-cotemer.fr/.
More from Mont Saint Michel Gites