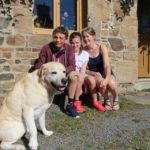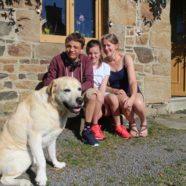 I don't have children so I borrowed a couple of teenagers for a few days!  Then I had to decide what we would do.  I had learnt on a previous day out that the teenagers I had borrowed tend not to come with ideas, so I wrote a list of possible things to do.
Of course I was still working.  We have people arriving and leaving almost every day in August and there are always chores.  Even teenagers can be a helpful pair of hands, though I am sworn to secrecy about what they did, in case they get asked to do it at home.
Things that we did manage to do:
Accrobranches
Zip wires and an aerial obstacles course, some of which is above water.
This was great fun for the kids and I got to walk the dog through the Foret de Villecartier, while they were up in the trees.  I'm quite tempted to go back without the dog and have a go myself.
Char À Voile
Sand-yachting across the flat and very wide beach at Cherrieux.
This is weather-dependent, so a lack of wind thwarted our first attempt.  Enjoyed by the 15 year old, but the 13 year old had a fall and a minor injury.  Another good location to walk the dog, while the children are busy.  There is a snack bar/restaurant next to the beach too, so somewhere for a drink and dinner when you have finished.
Visiting Mont St Michel at Night
This was lovely and it was high tide, so we crossed over to the Mont on the wooden-slatted bridge, with water flowing beneath our feet.  Highly atmospheric to be there at dusk.
We didn't go around the abbey, but in July and August it is possible to enter the abbey until 11pm, avoiding the day time crowds and also missing the lure of all the souvenir shops.
A trip to the beach
None of us are sun-worshippers, so we headed to the beach at 4pm.  Our beach of choice was one of the sandy coves just past Cancale.  As we walked down to the beach we passed a lot of people going home and the beach was relatively deserted.  It was a chance to swim, paddle, play with the dog or just snooze.
Things we didn't do because it didn't fit with the work schedule included kayaking, either down the river Rance or in the sea.  There are lots of places to kayak, but my pick would be Dinan.  Visit the castle on the same day and enjoy lunch at one of the restaurants beside the river at what was once an important port on the river Rance.
I'd have liked to do some more climbing at Mont Dol, but there wasn't enough time.
These ideas and others, including some history stuff, are detailed in our activity guide, available for anyone booking direct.  The guide includes website links so you can check booking details, location and pricing.  Currently only available in English and in pdf format, a French guide is in production.